In today's world we can say with no debate that aquaculture production should be managed in an environmentally responsible and sustainable fashion. However we can debate over how can we control, measure, upgrade, make more sustainable our process and view on aquaculture production.
  To upgrade the production now we have various ways of scientific approach , in case of sustainable aquaculture production, various certification programs have been developed to provide assurances that the products sold in markets in developed countries are raised in environmentally and socially sustainable ways.We at WEST BENGAL AQUACULTURE FEDERATION, KANTHI  works on aquaculture Industry to achieve more Production by less production cost.
Our priorities
Increase productivity of our primary industries and agribusinesses.
Secure production through biosecurity, food safety standards and efficient and sustainable use of resources.
Enable market access by working with primary industries to respond to evolving requirements of domestic and global markets and consumers.
Grow regions by driving new economic opportunities and building and strengthening communities.
Manage adverse events effectively and help primary industries and communities improve preparedness, resilience and recover well.
Reform our legislative framework and programs to drive efficiency, effectiveness and unlock potential.
Build partnerships with industry, stakeholders, research organisations and regional communities.
Perform well as a modern, flexible and responsive organisation that values and develops its people.
THE WEST BENGAL SOCIETIES REGISTRATION ACT
MEMORANDUM OF ASSOCIATION 
OF
WEST BENGAL AQUACULTURE FEDERATION KANTHI
At Contai, Dist- Purba Medinipur , Pin 721401, W.B.
The name of the society : WEST BENGAL AQUACULTURE FEDERATION (KANTHI)
Registered Office : Vill + P.O + P.S – CONTAI. Dist- Purba Medinipur , Pin 721401, W.B.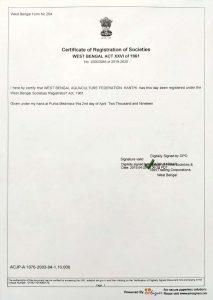 Objects of the Society :